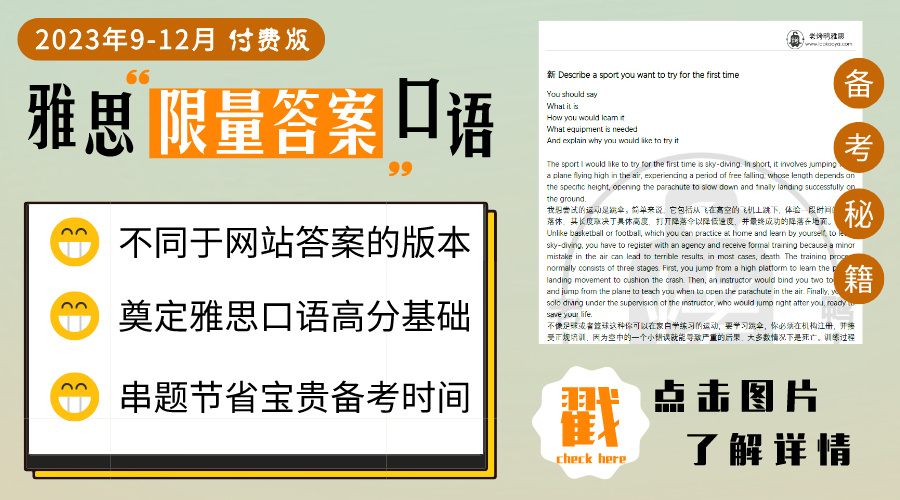 Provide free public transport 24 hours a day and 7 days a week 雅思写作交通类7分范文
这道题目首次出现在2017年1月21日的雅思考试中,要求大家探讨提供免费公共交通是否是解决拥堵问题的最佳方案。一方面,我们必须承认免费的公交、地铁确实有助于减少道路上的车辆数量;但另一方面,我们也得看到,这种方法可能只能影响到低收入人群,并且会增加人们出行的等待时间。
雅思写作大作文题目
The best way for the government to solve traffic congestion is to provide free public transport 24 hours a day and 7 days a week. Do you agree or disagree?
对于政府来说,解决交通拥堵问题的最佳方案是提供全天候的免费公共交通。你是否同意这一观点?
雅思写作交通类7分范文
开头段
In today's rapidly urbanizing world, traffic congestion has emerged as a significant challenge faced by many governments. Policymakers are tasked with finding effective solutions to ease traffic woes and ensure sustainable urban development. The proposal to provide free public transport around the clock is a contentious one, sparking debates about its feasibility and impact. While this measure might hold some potential benefits, I respectfully disagree with the notion that it represents the ultimate solution to traffic congestion.
免费公共交通不能解决根本问题
Firstly, it is essential to recognize that traffic congestion is a multifaceted issue influenced by various factors, including population density, road infrastructure, urban planning, and economic activities. While offering free public transport could encourage a proportion of commuters to switch from private vehicles to buses, trains, or trams, it cannot single-handedly address the root causes of congestion. Infrastructure deficiencies, poor road design, and lack of efficient traffic management are equally significant contributors. This article is from laokaoya website. Therefore, a holistic approach that combines multiple strategies, such as improving road infrastructure and implementing intelligent traffic control systems, is more likely to yield lasting results.
免费公共交通会增加财政负担
Moreover, the practicality and sustainability of providing free public transport 24/7 must be carefully examined. The financial burden of such a system could strain government budgets, potentially leading to cutbacks in other essential public services. Additionally, the increased demand on public transport during all hours might necessitate expanded fleets and more frequent services, which could escalate operational and maintenance costs. Without a sustainable funding model, the quality of public transport services might deteriorate over time, leading to dissatisfaction among passengers and a subsequent return to private vehicles.
免费公共交通影响有限
Furthermore, the effectiveness of free public transport in reducing congestion heavily depends on cultural and behavioral factors. Some individuals have preferences or constraints that make private vehicles more convenient, such as the need to transport heavy goods or to travel to remote areas not served by public transport networks. Moreover, decades of car-oriented urban development have ingrained automobile dependency in societies, making it challenging to swiftly shift towards a public transport-centric model. Therefore, comprehensive awareness campaigns and long-term educational efforts would be necessary to encourage a significant shift in travel behavior.
结论
In conclusion, while the proposition of offering free public transport 24/7 as a solution to traffic congestion appears promising, it overlooks the complexity of the issue and the multifaceted causes of congestion. Rather than being a standalone solution, it is crucial for governments to adopt a multifaceted approach that combines improvements in infrastructure, traffic management, and public transport services.
本文固定链接: http://www.laokaoya.com/56920.html | 老烤鸭雅思-专注雅思备考