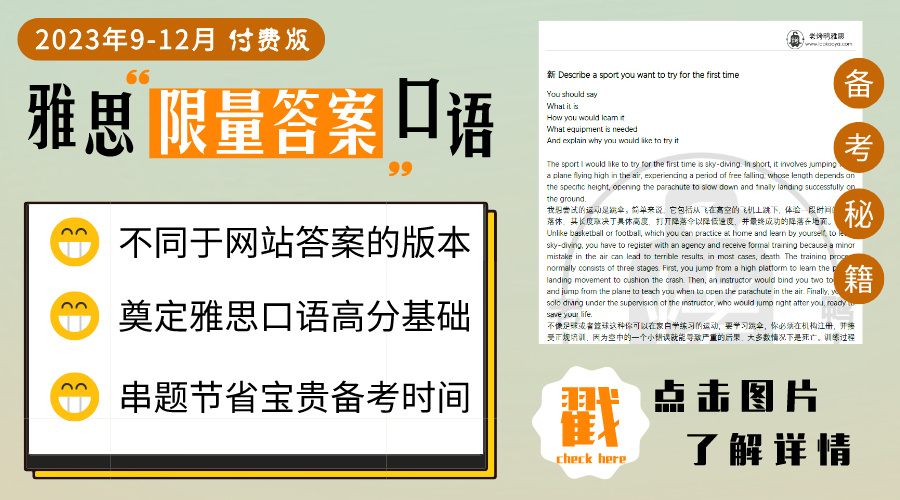 OG剑桥雅思官方指南Test2 Section1听力原文与答案 Short story competition
剑桥雅思官方指南听力第二套题目第一部分的主题为短篇故事大赛,具体内容包括故事的长度,最低的参赛年龄,报名截止日期,网站地址,寄送要求,评判过程等。下面是其对应的录音原文与答案。
OG Test2 Section1听力原文
A: Good morning. Dave speaking.
B: Oh hi. I'm phoning about a short story competition. Um, I saw an advert in a magazine and I was just calling to get some details.
A: Yes-certainly. I'm the competition organizer so I should be able to help. What kind of details are you looking for?
B: Well – erm – does it cost anything to enter?
A: Yes – there's an entry fee of five pounds.
B: OK – that should be fine.
B: It's a short story competition-so how many words is that
A: Well – we want to give people a reasonable amount of freedom but the guidelines are around 3,000 words (Q1).
B: Oh – that sounds quite a lot.
A: Well – it's not as much as it used to be. We did have a limit of 5,000 words but some people thought that was too many so this year we've reduced it.
B: Right-and does the story need to be about anything in particular?
A: No-you can write about any topic you like. But the main point of the competition is that it has to have a surprise ending (Q2).
B: Oh-I see. That sounds interesting. I don't think I've ever written a story like that before.
A: Yes – it's something we've introduced for this year's competition.
B: Right. Um – I'm eighteen. Is there any age limit?
A: Yes – you need to be sixteen (Q3) or over, so if you're eighteen that's fine.
B: Great. So you have the competition once a year. Is that right?
A: Yes – we start advertising in January and the competition takes up a lot of the year. We give people a few months to write their story and then it takes quite a long time to judge all the entries and to announce the winners.
B: I see. So when is the closing date for the competition? It's already April-I hope I'm not too late.
A: No you've still got plenty of time. You need to submit your entry by the 1st of August (Q4). After then it will be too late. although you can always enter next year's competition!
B: OK good. So how do I enter?
A: Well we have a website and the best way to enter is to complete the entry form online. We also have more details of the competition on the site. Shall I give you the web address?
B: Yes, please.
A: OK-it's www dot C-O-M-P-4-S-S (Q5) dot com. And that's the number four not the word four.
B: OK-thanks.I've got that. So – I can complete the entry form online but how do I send the story? Do I print it out and send it to you?
A: Well you may want to print the story out so you can review it but don't post (Q6) it to us. This article is from Laokaoya website. When you've finished your story you will need to email it to us. The email address is on the website I gave you.
B: OK-that's fine. Um can you tell me a bit about how the competition is judged and what the prizes are?
A: Yes of course. Well, once we have all the entries I send them to all the judges. Our competition is quite popular so we are lucky to be able to use famous authors (Q7) who are very interested in the competition.
B: That's fantastic. It's great to know that someone famous will be reading my story!
A: Yes that's right. It takes them quite a while to read through the entries but eventually they decide on the top five stories.
B: I see – and what happens then?
A: Well, they will be published online (Q8) so everyone can read them. They will not be in any order at this point. They will just be the five stories that the judges think are the best.
B: And do all the top five stories get prizes?
A: No – it's just the top story and the runner-up.
B: So how is the top story decided?
A: Well once the top five stories are available, it will be the public (Q9) who will vote for their favourite story.
B: Right-I see. So I need to get all my friends to vote for me then!
A: Er, yes – that's a good idea.
B: And what is the prize?
A: Well, the runner-up gets a prize of E300, but the winner gets a trip to Spain (Q10) to attend a workshop for writers.
B: Wow – that's brilliant! I'd better get writing straight away.
A: Yes – good luck!
B: Thanks.
OG Test2 Section1听力答案
1. 3000 words
2. surprise/surprising ending
3. 16
4. August
5. COMP4SS
6. post
7. famous authors
8. online
9. public
10. Spain
OG剑桥雅思官方指南Test2 Section2听力原文与答案 Sea Life Centre – information
OG剑桥雅思官方指南Test2 Section3听力原文与答案 Experience of University
OG剑桥雅思官方指南Test2 Section4听力原文与答案 Preparing and giving a presentation
本文固定链接: http://www.laokaoya.com/50333.html | 老烤鸭雅思-专注雅思备考