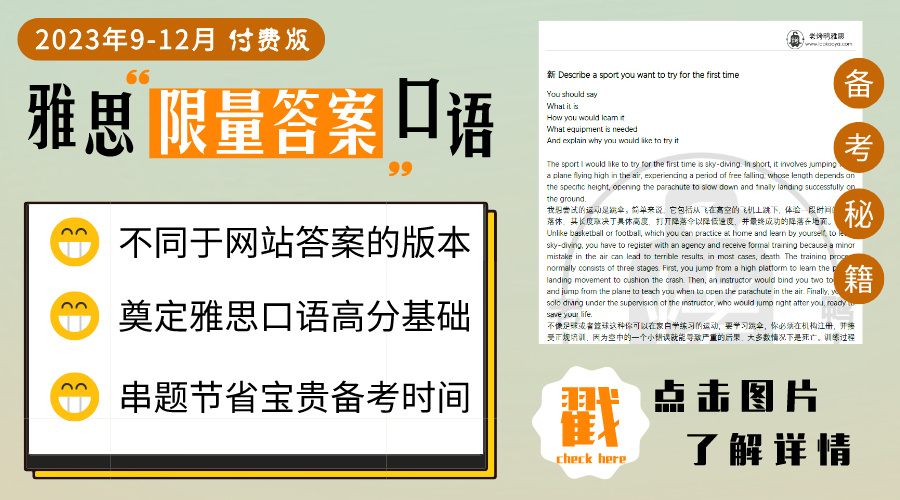 剑桥雅思18Test3Part1听力原文与答案 Wayside Camera Club
剑桥雅思18听力第三套题目第一部分的主题为摄影俱乐部咨询。具体内容包括报名者的基本信息,如姓名、电子邮件、住址、目的、会员类型、从哪里了解到该俱乐部等,以及其过去参加的三个比赛。下面是这段音频对应的文本与相应题目的答案。
剑桥雅思18 Test3 Part1雅思听力原文
BREDA: Hello, Wayside Camera Club, Breda speaking.
DAN: Oh, hello, um, my name's Dan and I'd like to join your club.
BREDA: That's great, Dan. We have an application form – would you like to complete it over the phone, then you can ask any questions you might have?
DAN: Oh, yes, thanks.
BREDA: OK, so what's your family name? It's Green-Dan Green.
DAN: So – can I take your email address? Yes, it's dan1068@market.com.
BREDA: Thanks. And what about your home address?
DAN: Well, I'm about ten miles away from your club in Peacetown. I live in a house there.
BREDA: OK, so what's the house number and street?
DAN: It's 52 Marrowfield (Q1)Street.
BREDA: Is that M-A double R-O-W-F-I-E-L-D?
DAN: That's right.
BREDA: .. and that's Peacetown, you said?
DAN: Uhuh.
BREDA: So how did you hear about our club? Did you look on the internet?
DAN: I usually do that, but this time, well, I was talking to a relative (Q2) the other day and he suggested it.
BREDA: Oh, is he a member too?
DAN: He belongs to another club – but he'd heard good things about yours.
BREDA: OK. So what do you hope to get from joining?
DAN: Well, one thing that really interests me is the competitions that you have. I enjoy entering those.
BREDA: Right. Anything else?
DAN: Well, I also like to socialise (Q3) with other photographers. That's great. So what type of membership would you like? What are the options?
BREDA: It's 30 pounds a year for full (Q4) membership or 20 pounds a year if you're an associate.
DAN: I think I'll go for the full membership, then.
BREDA: That's a good idea because you can't vote in meetings with an associate membership.
BREDA: If I could just find out a bit more about you…
DAN: OK.
BREDA: So you said you wanted to compete – have you ever won any photography competitions?
DAN: Not yet, but I have entered three in the past.
BREDA: Oh, that's interesting. So why don't you tell me something about those? Let's start with the first one.
DAN: Well, the theme was entitled 'Domestic (Q5) Life'.
BREDA: I see – so it had to be something related to the home?
DAN: Yeah. I chose to take a photo of a family sitting round the dinner table having a meal, this article is from laokaoya website, and, um, I didn't win, but I did get some feedback.
BREDA: Oh, what did the judges say?
DAN: That it was too 'busy' as a picture.
BREDA: Aha- so it was the composition of the picture that they criticised?
DAN: That's right – and once they'd told me that, I could see my mistake.
BREDA: So what was the theme of the second competition?
DAN: Well, my university was on the coast and that area gets a lot of beautiful sunsets, so that was the theme.
BREDA: Oh, sunsets, that's a great theme.
DAN: Yes. The instructions were to capture the clouds (Q6) as well – it couldn't just be blue sky and a setting sun.
BREDA: Sure, cause they give you all those amazing pinks and purples.
DAN: Yeah – and I thought I'd done that well, but the feedback was that I should have waited a bit longer to get the shot.
BREDA: I see. So the timing (Q7) wasn't right.
DAN: Yes – I took it too soon, basically. And then the third competition I entered was called 'Animal Magic' (Q8).
BREDA: Well, that's a difficult subject!
DAN: I know! I had to take hundreds of shots.
BREDA: I'm sure – because animals move all the time.
DAN: That's what we had to show – there had to be some movement (Q9) in the scene. I got a great shot of a fox in the end, but I took it at night and, well, I suspected that it was a bit dark (Q10), which is what I was told.
BREDA: Well Dan – you seem to be really keen and we'd be delighted to have you in our club. I'm sure we can help with all those areas that you've outlined.
DAN: Thanks, that's great.
剑桥雅思18 Test3 Part1雅思听力答案
1. Marrowfield
2. relative
3. socialize/socialise
4. full
5. Domestic Life
6. clouds
7. timing
8. Animal magic
9. (animal) movement
10. dark
本文固定链接: http://www.laokaoya.com/56673.html | 老烤鸭雅思-专注雅思备考