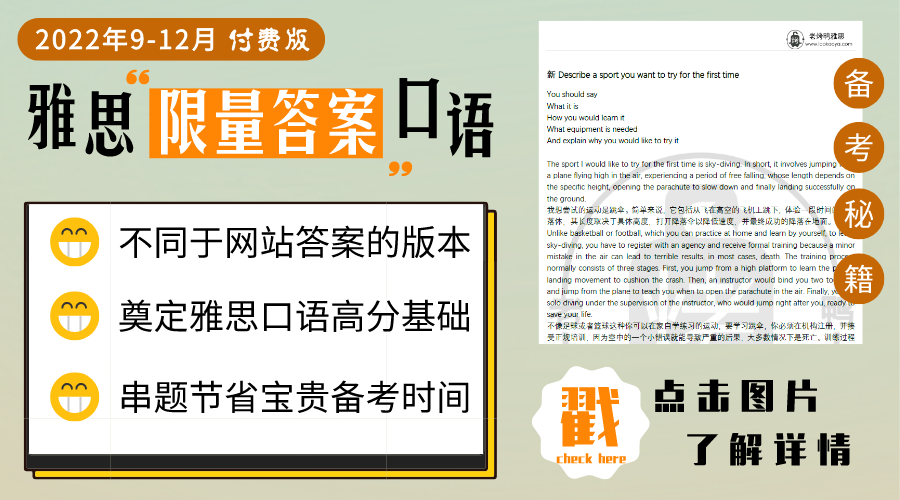 剑桥雅思14Test4Section2听力原文与答案 酒店与娱乐项目介绍
剑桥雅思14听力第四套题目第二部分的主题为酒店与娱乐项目介绍,具体内容包括海豚观看,丛林漫步,骑行等活动的注意要点,以及Musical Favourites和Castle Feast的详细情况。下面是这段音频对应的文本。
点击查看这篇雅思听力中出现的高频词汇与具体题目的答案解析:
剑桥雅思14Test4Section2听力答案解析 excursions
剑桥雅思14 test4 section2雅思听力原文
Hello everyone. I'm Jake Stevens and I'm your rep here at the hotel. I'm sure you'll all have a great time here. So let me tell you a bit about what's on offer. I'll start by telling you about some of the excursions that are available for guests.
One thing you have to do while you're here is go dolphin watching. On our boat trips, we pretty well guarantee you'll see dolphins – if you don't you can repeat the trip free of charge. We organise daily trips for just 35 euros. Unfortunately there aren't any places left for this afternoon's trip (Q11), but come and see me to book for later in the week.
If you're energetic, I'd recommend our forest walk. It's a guided walk of about seven kilometres. There'll be a stop half way, and you'll be provided with a drink and sandwiches (Q12). There's some fairly steep climbs up the hills, so you need to be reasonably fit for this one, with good shoes, and bring a waterproof in case it rains. It's just 25 euros all inclusive, and it's every Wednesday.
Then on Thursdays we organise a cycle trip, which will give you all the fun of biking without the effort. We'll take you and your bike up to the top of Mount Larna, and leave you to bike back – it's a 700-metre drop in just 20 kilometres (Q13) so this isn't really for inexperienced cyclists as you'll be going pretty fast. And if it's a clear day, you'll have fantastic views.
On our local craft tour you can find out about the traditional activities in the island. And the best thing about this trip is that it's completely free (Q14). You'll be taken to a factory where jewellery is made, and also a ceramics centre. If you want, you can buy some of the products but that's entirely up to you. The trip starts after lunch on Thursday, and you'll return by 6 pm.
If you're interested in astronomy you may already know that the island's one of the best places in the world to observe the night sky. We can offer trips to the observatory on Friday for those who are interested. They cost 90 euros per person and you'll be shown the huge telescopes and have a talk from an expert, who'll explain all about how they work. Afterwards we'll head down to Sunset Beach, where you can have a dip in the ocean (Q15) if you want before we head off back to the hotel.
Finally, there's horse riding. This is organised by the Equestrian Centre over near Playa Cortino and it's a great experience if you're a keen horseback rider, or even if you've never been on a horse before (Q16). They take you down to the beach, and you can canter along the sand and through the waves. It costs 35 euros and it's available every day.
So there's plenty to do in the daytime, but what about night life?
Well, the number one attraction's called 'Musical Favourites, . Guests enjoy a three-course meal and unlimited free drinks, and watch a fantastic show, starting with musicals set in Paris and then crossing the Atlantic to Las Vegas and finally Copacabana. At the end the cast members come down from the stage, still in their stunning costumes, and you'll have a chance to chat with them (Q17). It's hugely popular, so let me know now if you're interested because it's no good leaving it until the last minute (Q18). It's on Friday night. Tickets are just 50 euros each, but for an extra 10 euros you can have a table right by the stage.
If you'd like to go back in time, there's the Castle Feast on Saturday evening. It's held in a twelfth-century castle, and you eat in the great courtyard, with ladies in long gowns serving your food. You're given a whole chicken each, which you eat in the medieval way, using your hands instead of cutlery (Q19), and you're entertained by competitions where the horseback riders attempt to knock one another off their horses. Then you can watch the dancers in the ballroom and join in as well if you want (Q20). OK, so now if anyone …
剑桥雅思14 Test4 Section2雅思听力答案
11. G
12. D
13. A
14. E
15. F
16. B
17-18. BD
19-20. AD
剑桥雅思14Test4Section1听力原文与答案 Enquiry about booking hotel room for event
剑桥雅思14Test4Section3听力原文与答案 children's literature
剑桥雅思14Test4Section4听力原文与答案 The hunt for sunken settlements and ancient shipwrecks
本文固定链接: http://www.laokaoya.com/39187.html | 老烤鸭雅思-专注雅思备考