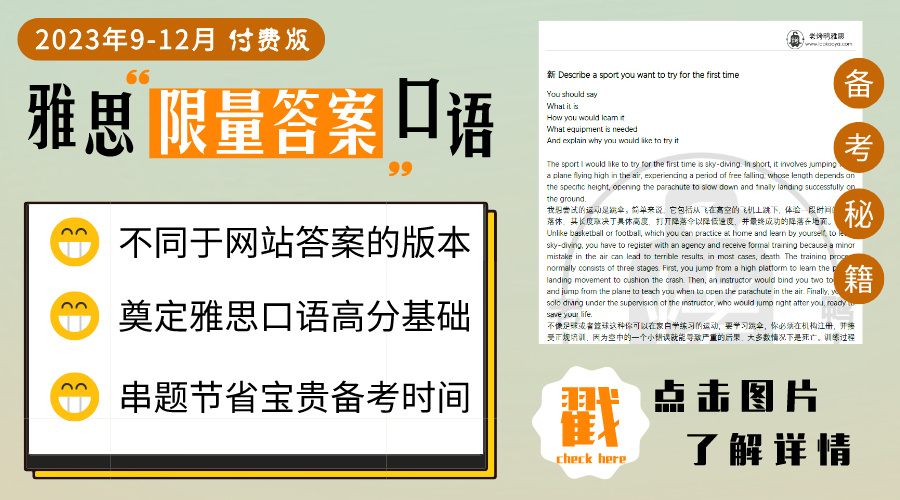 剑桥雅思18Test1Part3听力原文与答案 Talk on jobs in fashion design
剑桥雅思18听力第一套题目第三部分的主题为两名学生讨论自己参加的求职培训。具体内容包括女生一开始遇到的问题,之前没有想到的东西,对演讲者所说内容的看法,对学校求职中心的意见等等。下面是这段录音对应的原文。
剑桥雅思18 Test1 Part3雅思听力原文
HUGO: Hi Chantal. What did you think of the talk, then?
CHANTAL: Hi Hugo. I thought it was good once I'd moved seats.
HUGO: Oh – were the people beside you chatting or something?
CHANTAL: It wasn't that. I went early so that I'd get a seat and not have to stand, but then this guy sat right in front of me and he was so tall!
HUGO: It's hard to see through people's heads, isn't it (Q21)?
CHANTAL: Impossible (Q21)! Anyway, to answer your question, I thought it was really interesting, especially what the speaker said about the job market.
HUGO: Me too. I mean we know we're going into a really competitive field so it's obvious that we may struggle to get work.
CHANTAL: That's right – and we know we can't all have that 'dream job'.
HUGO: Yeah, but it looks like there's a whole range of … areas of work that we hadn't even thought of (Q22) – like fashion journalism, for instance.
CHANTAL: Yeah – I wasn't expecting so many career options.
HUGO: Mmm. Overall, she had quite a strong message, didn't she?
CHANTAL: She did. She kept saying things like 'I know you all think this, but .'and then she'd tell us how it really is.
HUGO: Perhaps she thinks students are a bit narrow-minded about the industry.
CHANTAL: It was a bit harsh, though! We know it's a tough industry (Q23).
HUGO: Yeah – and we're only first years, after all. We've got a lot to learn (Q23).
CHANTAL: Exactly. Do you think our secondary-school education should have been more career-focused?
HUGO: Well, we had numerous talks on careers, which was good, but none of them were very inspiring. They could have asked more people like today's speaker to talk to us (Q24).
CHANTAL: I agree. We were told about lots of different careers – just when we needed to be, but not by the experts who really know stuff.
HUGO: So did today's talk influence your thoughts on what career you'd like to take up in the future?
CHANTAL: Well. I promised myself that I'd go through this course and keep an open mind till the end.
HUGO: But I think it's better to pick an area of the industry now and then aim to get better and better at it.
CHANTAL: Well, I think we'll just have to differ on that issue (Q25)!
HUGO: One thing's for certain, though. From what she said, we'll be unpaid assistants in the industry for quite a long time.
CHANTAL: Mmm.
HUGO: I'm prepared for that (Q26), aren't you?
CHANTAL: Actually, I'm not going to accept that view.
HUGO: Really? But she knows it's the case – and everyone else says the same.
CHANTAL: That doesn't mean it has to be true for me.
HUGO: OK. Well – I hope you're right!
CHANTAL: I thought the speaker's account of her first job was fascinating.
HUGO: Yeah – she admitted she was lucky to get work being a personal dresser for a musician. This article is from laokaoya website. She didn't even apply for the job and there she was getting paid to choose all his clothes.
CHANTAL: It must have felt amazing – though she said all she was looking for back then was experience, not financial reward.
HUGO: Mmm. And then he was so mean, telling her she was more interested in her own appearance than his (Q27)!
CHANTAL: But – she did realise he was right about that, which really made me think. I am always considering my own clothes but now I can see you should be focusing on your client!
HUGO: She obviously regretted losing the job.
CHANTAL: Well, as she said, she should have hidden her negative feelings about him. but she didn't (Q28).
HUGO: It was really brave the way she picked herself up and took that job in retail. Fancy working in a shop after that!
CHANTAL: Yeah – well, she recommended we all do it at some point. I guess as a designer you'd get to find out some useful information, like how big or small the average shopper is.
HUGO: I think that's an issue for manufacturers, not designers. However, it would be useful to know if there's a gap in the market – you know, an item that no one's stocking but that consumers are looking for (Q29).
CHANTAL: Yeah, people don't give up searching. They also take things back to the store if they aren't right (Q30).
HUGO: Yeah. Imagine you worked in an expensive shop and you found out the garments sold there were being returned because they … fell apart in the wash!
CHANTAL: Yeah, it would be good to know that kind of thing.
HUGO: Yeah.
剑桥雅思18 Test1 Part3雅思听力答案
21. A
22. B
23. A
24. C
25. B
26. A
27-28. BE
29-30. AC
本文固定链接: http://www.laokaoya.com/56233.html | 老烤鸭雅思-专注雅思备考